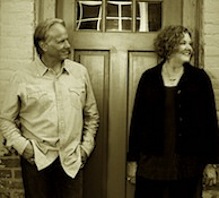 JIM WATSON

: A Mighty Fine Group member since 1988

A native of North Carolina, Jim was a founding member of The Red Clay Ramblers in the early 1970's. He performed with the Ramblers for 14 years and recorded 9 albums on Folkways, Flying Fish and Sugar Hill. Watson also performs with Duke LaCrosse and Pinky Wyoming and plays string bass with the bluegrass band, Green Level Entertainers. Jim's latest solo CD, "This World Would Be All Sunshine," was released Fall 2008. Currently, Jim recorded a CD,

"You've Been a Friend to Me,"

with former band members Mike Craver and Bill Hicks in addition to Joe Newberry which was released July 2012.




Chris Brashear

: A wonderful fiddle/mandolin player!

He's a highly skilled and colorful instrumentalist, a charismatic singer with a high, clear voice, and a songwriter who portrays contemporary life with old-time flavor. He performed for two years in Italy as violinist with the Maurizio Geri Swingtet (1995-97). His first solo recording is a 1999 release from Copper Creek Records. Chris is also known for his work with the bluegrass band Perfect Strangers, and for his duet recordings and appearances with Peter McLaughlin. Chris' 2012 CD, "Heart Of The Country," was recorded with the help of Tim O'Brien, Pat Enright, Mike Compton, Peter McLaughlin, Al Perkins, Richard Bailey, Todd Phillips, Mike Craver, Jim Watson and Hollis Brashear and is available August 23.